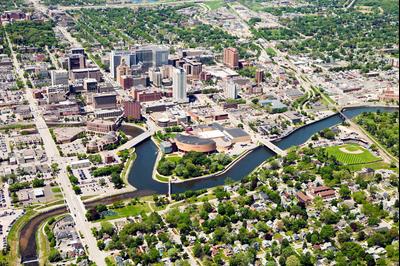 预订酒店实用资讯
| | |
| --- | --- |
| 淡季 | 十一月 |
| 旺季 | 十月 |
| 平均价格(平日): | ¥939 |
| 平均价格(周末): | ¥783 |
(过去2个星期的平均价)
周日 - 周四
(平日晚上)
(过去2个星期的平均价)
周五及周六
(周末晚上)
罗切斯特酒店 - Shops at University Square附近住宿推荐
显示全部
1
The DoubleTree Hotel Rochester - Mayo Clinic Area is conveniently located downtown in Rochester, Minnesota, just two blocks away from the Mayo Clinic and Methodist Hospital. Our upscale, full-service hotel connects to the Mayo, Gonda, and Plummer buildings via Rochester's climate-controlled Skyway and Pedestrian Subway system. For your convenience, our hotel courtesy town car is also available for transport to downtown Rochester hospital facilities, including St. Mary's campus. Our tastefully decorated hotel features an avant-garde design in its public spaces and two secure floors of executive accommodations on our Concierge Level, which offers morning breakfast and evening cocktails & hors d'oeuvres in a spacious lounge overlooking downtown Rochester. Our guest rooms and suites provide comfort and convenience with ergonomic work spaces and data ports, flat panel TVs, and our luxurious beds. First-class hotel amenities include: -Complimentary wireless high-speed Internet access -Heated indoor pool, whirlpool, and sauna -Precor-equipped fitness center -Business center -Gift shop -In-room dining -#1 Hotel in Rochester for five consecutive years by Rochester Post Bulletin Our award-winning restaurant, Pescara, serves breakfast, lunch and dinner daily in casual surroundings. Relax with friends or colleagues over cocktails or a glass of wine. The DoubleTree hotel in downtown Rochester provides a convenient location near the University of Minnesota Center, the Courthouse. Our attractive and flexible meeting facilities include 8,000 square feet of meeting rooms, state-of-the-art audio/visual services, and experienced catering and banquet professionals to make your corporate event, seminar, or wedding reception memorable. For vacation or medical travel, our downtown Rochester hotel near the Mayo Clinic offers a great combination of comfort, location and value. Our caring and professional hotel staff looks forward to welcoming you to Rochester with our signature DoubleTree chocolate chip cookie at check-in.
In downtown Rochester, Minnesota, visitors will find the Mayo Clinic and so much more. When they are in the area to go to the world famous hospital or just visiting, there is a lot to do here and there are many places to stay. A popular hotel here is the Kahler Inn and Suites. This hotel offers 271 guest rooms and has easy access to the Mayo Clinic. It has an indoor pool, on-site restaurant, is pet friendly, and serves a hot or cold breakfast every morning for hotel guests. There is a 24-hour fitness center, game room, 24-hour front desk, and airport shuttle available to all of the guests of the Kahler Inn and Suites. The rooms here are wonderful and guests of the hotel will feel as if this is their home away from home. Each room includes flat screen television, Wi-Fi, work desk, mini fridge, and microwave. Kitchenette suites and junior suites are available as well. Guests can dine at the hotel at CB3 Burgers and Brews. When visiting the area, there is a lot for guests of the hotel to do. They can explore the Plummer House, Plummer Building, Heritage House, Silver Lake Park, SEMVA Art Gallery, Apache Mall, and Mayowood Mansion. Guests will get a good look at what Rochester is truly like when they visit these spots. Booking a room here is simple and future guests should try to do so in advance to their stay. This hotel is popular and does fill up rather quickly and there is also a lot of traffic from people going to and from the Mayo Clinic.
6.3 好
优点: 位置特别好
缺点: 不干净,家具老,厨房有异味
10.0 极好
优点: 距离梅奥诊所咫尺之遥
缺点: 早餐没有什么可吃的,中国人不适宜
7.5 好
优点: 宽敞
缺点: 酒店其他设施都没有,比如打印机等办公服务
The Kahler Grand Hotel caters to a diverse set of guest visits. The hotel is in prime location for Mayo Civic Center conferences or visits, weddings, and weekend getaways. It's unique location in downtown Rochester offers easy access to iconic attractions. Large meeting and conferences are welcome at the Kahler Grand Hotel. The property consists of 30,000 square feet of meeting spaces including 14 diverse venues. In addition, there are 616 guestrooms including suites making guest accommodation a breeze. The Kahler Grand Hotel is located directly adjacent to the Mayo Civic Center and is connected via a direct skywalk. It is a perfect place for auxiliary Mayo Civic Center Events. Meeting areas are fully equipped with high-quality audio/visual equipment and high-speed internet. Elegant weddings can be seamlessly executed at the Kahler Grand Hotel. The Elizabethan Grand Ballroom is 3,150 square feet and has 20-foot-high ceilings. The fireplace and wooden features create a warm and inviting atmosphere. Guests will be impressed with the intimacy of this gorgeous venue. Entertainment is just a few steps away from the Kahler Grand Hotel. The Shops at University Square are a great place for both locals and visitors. Soldiers Field Veterans Memorial is just over a half mile away from the hotel and is a peaceful and thought-provoking attraction to visit. Planning a large event is made easy at the Kahler Grand Hotel. The helpful staff and nearby attractions ensure that guests have a great time. The downtown location offers a fun and exciting atmosphere that encourages guests to enjoy.
10.0 极好
优点: 设施好,有泳池,有餐厅,且离梅奥非常方便,SUBWAY可以自由通行,服务人员服务周到,不受打扰。还免费升级了房间。